Fall Destination: Ithaca, New York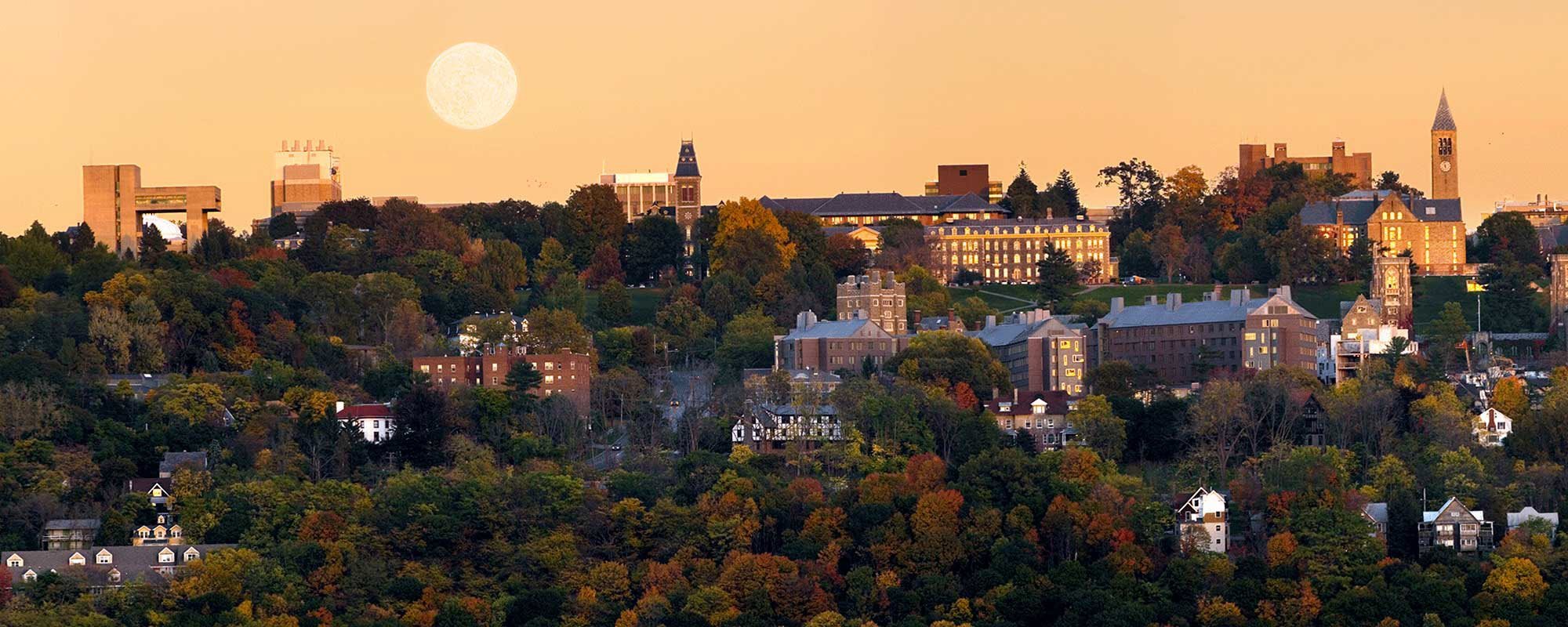 If you are a child of the 80s, then you likely have at least one memory of a Volvo station wagon with a bumper sticker that read "Ithaca is Gorges." Being a West Coast kid, I had no idea what this meant, and I lumped the mystery into a category of grownup humor that I knew my future self would one day understand.  After all, the only Ithaca I was aware of then was the one that existed in Greek mythology. 
It wasn't until I was in my 30s and traveled to Ithaca to visit a friend who is a professor at Cornell University that I finally got the joke.  While I can't say the pun itself was worth the wait, I can say that Ithaca, New York is gorgeous, and it does have some rather spectacular gorges. 
Visiting Ithaca in the Autumn is like entering into a realm co-crafted by Wes Anderson and John Updike at their most quaint and quirky genius. Its small town charm has Ivy League credentials, and it is a place possessed by a unique blend of Gothic-yet-outdoorsy feels that, in my experience, you won't find anywhere else on the planet. 
It is also the home of the renowned Moosewood Restaurant, whose vegetarian cookbooks were even more ubiquitous on the kitchen counters of progressive 80s households than the aforementioned bumper stickers were on Volvos during that same era. The Moosewood Restaurant is required dining for any vegetarian, or for those who simply love fresh, local, expertly prepared food.  Personally, I would probably eat every meal there on my next trip to Ithaca, but if you'd like a little variety, these here are some other great spots:
Food
Argos Inn for craft cocktails and jazz nights in an impeccably restored historic mansion. 
The Ithaca weekend Farmer's Market is rootsy, rustic, and fabulous. Don't miss it. 
Ithaca Beer/Brewery is a great place to sit outside and soak up the golden autumn light while enjoying a fine Pale Ale and a bite to eat. 
Get your expertly prepared morning fix at Gimme! Coffee. 
Enjoy a delicious pre- or post-hike brunch at Café Dewitt.
Hit The Rook for a fabulous dinner at a favorite neighborhood spot. 
Things to Do
Handwork Artisan Collective for a great selection of local craftsmanship. 
Treman State Park: This 1,100 acre state park is abundant with trails that have spectacular views of waterfalls and an iconic gorge known as Enfield Glen. 
Buttermilk Falls State Park: Named for the foaming cascade formed by Buttermilk Creek as it flows down the steep valley side toward Cayuga Lake, the upper park has a small lake, hiking trails through woodlands and along the gorge and rim, picnic areas, and playing fields. The lower park has a campground, natural pool, and playing fields. Beyond this is Larch Meadows, a wetland area with a beautiful a nature trail.
Taughannock Falls State Park: Autumn is definitely the best time to visit this 750 acre state park. It is one of the most beautiful in the Northeast, and at the center is the Taughannock Falls, a gorgeous waterfall that plunges 215 feet. 
Mountain Biking at Shindagin Hollow State Forest: Well regarded for its 20 miles of mountain bike trails, the terrain is maintained through a Volunteer Stewardship Agreement with Cycle-CNY, an International Mountain Bicycling Association (IMBA) affiliated club. 
Stand Up Paddle Boarding on Lake Cayuga: Experienced and novice SUP'ers alike will appreciate taking in the beauty of local wildlife from the serene waters of Lake Cayuga.  Paddle Boarding not your thing? Try a canoe or kayak tour instead. 
Where To Stay
The Argos Inn is fabulous for kid-free accommodations.
La Tourelle Hotel and Spa is a dreamy splurge with a farm-to-table restaurant and good package/weekend deals. 
Like so many of our favorite destinations, Ithaca is a bit off the beaten path, but highly worth it.  It has an airport, and is a 4.5-hour drive from La Guardia in New York City.  How ever you get there, we recommend you do it soon and do it this season.  Those leaves aren't going to peep themselves, after all.