Holiday Provisions: The Gift Guide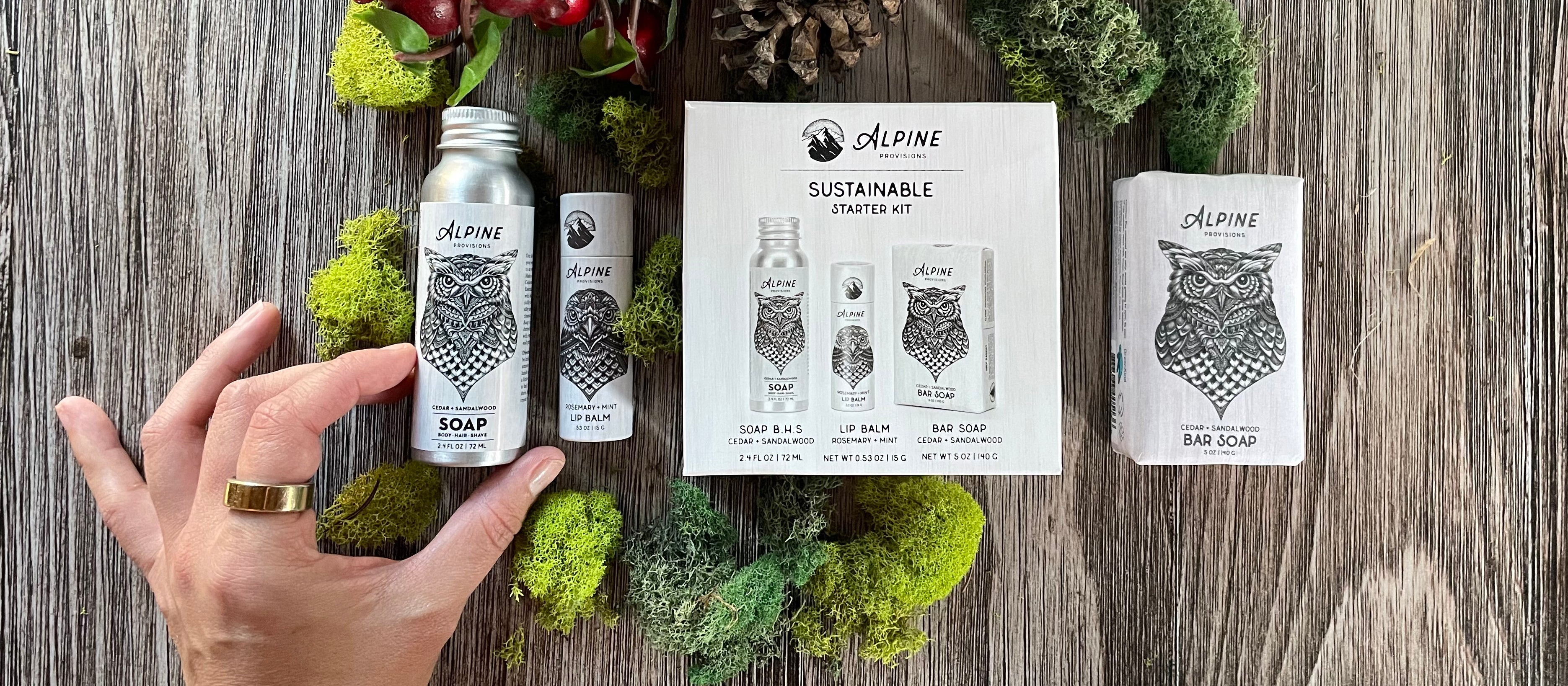 The provisions this holiday season are a curated list of our teams' favorites and personal selections for elevating daily self-care rituals to a nature plunge. This year, we're offering curated boxed sets that are perfect for travel (or to help your loved ones fall in love with Alpine for the very first time). Additionally, our Plastic-free Bundles offer a variety of best-selling products and price points – for everyone on your nice list.
All Alpine Provisions products are everyday essentials - sourced with respect for people, planet, and purity, so you can feel good about giving gifts that are meaningful, useful, and won't contribute to the landfills. Read on for top gift recommendations from the Alpine team.
12-Piece Bar Soap Bundle - $99
"This is my favorite stocking stuffer gift – I buy a few of these bundles and sneak the bar soaps into stockings, mailboxes, in tip jars…and more. I got my start in the beauty industry creating organic bar soaps, and twenty-two years later, I'm still so grateful to be sharing a product that has been my life's work with everyone I love in life". -Joshua, Founder and CEO
Sustainable Starter Kit - $28
"Our holiday theme this year is 'rustic' – meaning lots of tartan plaid (blankets, pajamas, tree ornaments...), cabin stays on the lake with cozy bonfires, smores, and red wine, and lots of self-care time. I'm on a less-is-more gifting approach this year; I want to give everyone I love something very special, and it has to be sustainable. I am gifting the Sustainable Starter Kit to all the gent and lady loves in my life – because it's a perfect trial size of 3 of Alpine's best-selling products (in two iconic scents)." -Jaimee, SVP Marketing
Castile Body Wash Trio - $57
"The Body Wash formulas are made of a rich combination of plant-derived Olive and Coconut oils - they're super concentrated, highly effective, yet wonderfully gentle cleansers that can be used on both skin and hair. My family always raves about the mountain-inspired scents – it's a way for us to holiday vicariously with each other, even when we can't be together." -Karen, Sales and Operations
Haircare Bundles - $38
"My wife is a chef, which means self-care time is limited, especially during the holidays. Because she works so hard and deserves the best, every year I gift her a couple of our Haircare Bundles (she especially loves the Rosemary + Mint fragrance). She loves the rich lather, and the fact that the formula is clean, and safe enough for color-treated hair. I find that she takes a few extra minutes in the shower using these, and that brings me joy." -Josh, Packaging Design 
Oral Care Essentials - $42
"I camp during the holidays (and honestly, every weekend I can), and this set gives me complete oral care coverage while I'm away from home. The Toothpaste Tabs are my absolute favorite - convenient enough to use literally anywhere, and they help keep my breath feeling fresh all day." -David, Customer Service
Check out our full list of plastic-free gifts here, and wishing you and yours a healthy, happy, holiday season.

-The Alpine Provisions Family