Summer Destination: Boulder, CO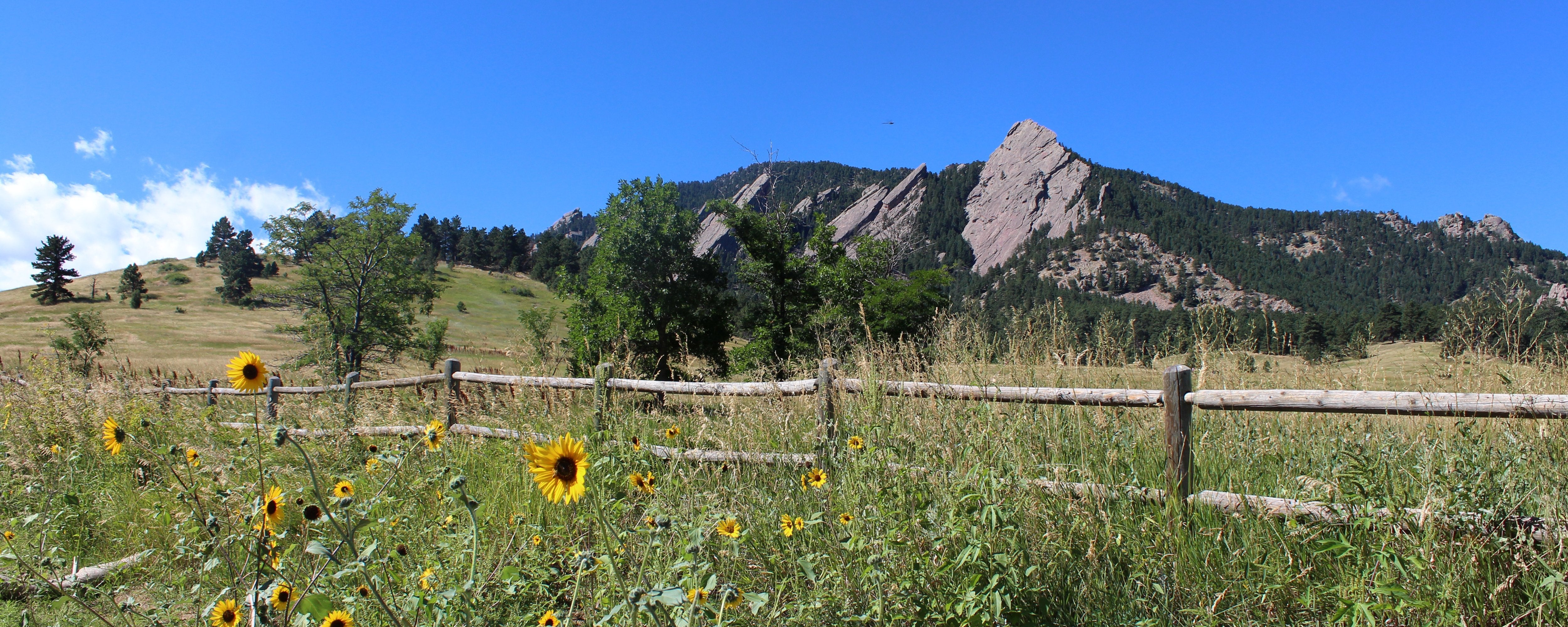 Summer, you're so amazing. We adore the way you heat things up so early in the morning, and you're always ready for an adventure. We love your long, languorous evenings, so perfect for star-gazing. We love your sun-warmed, straight-from-the-garden veggies and fruits. We love taking road trips with you… and the camping. Oh, the camping!
There is no place on earth where Summer is more quintessentially itself than our hometown, Boulder, Colorado. The days are hot, the nights are cool, the rivers and creeks running down from the mountains make an ideal afternoon refuge. The Farmers Market is bursting with the freshest, most local food available, and the pace is slower than the rest of the seasons, thanks to CU Boulder paring down for its Summer sessions. And have we mentioned the afternoon thunderstorms? Epic.
Boulder outdoor recreation is also, arguably, at its finest in the Summer. World-class rock climbing and hiking can be done within the city limits. And, if big peaks are your thing, you can find you'll find some of the most iconic Rocky Mountain landscapes just a short but scenic drive west.
Though it is a sophisticated, diverse village of over 100,000 people, Boulder is not really a straight shot from anywhere. It's not an exit off a well-traveled, cross-country thoroughfare, and the nearest big airport is in Denver. In other words, you have to go there deliberately, and you have to work a little bit to do so. With this in mind, we want you to travel armed with knowledge of the great places to eat, sleep, and play so you can make the most of your time.
Food
It didn't used to be this way, but Boulder has become a legit foodie town. Not only does it boast many truly amazing restaurants, but it is the birthplace of dozens of the incredible snack food products you likely enjoy from your local health food store (seriously, check out the labels – you'll be shocked by how many were made in Boulder). And, truly, it has one of the most sensational Farmers Markets in the world, running April – November, with a food court that has become part of many a local's Wednesday evening or Saturday morning ritual, wherein they buy their fresh produce for the week and then enjoy an al fresco meal with friends.
While there are many great choices when dining out, a few of our favorites are: The Kitchen, Arcana, Box Car Coffee Roasters, The Laughing Goat, and the wonderful juice bar, Wonderpress. Also, don't miss breakfast at Dry Storage, where they grind their own grain and make their bread from it.
Things to Do
One thing's for certain: you won't get bored on your trip to Boulder. Whether you spend an afternoon wandering Pearl Street or hit one of the myriad hiking trails, you're in for a treat.
Hiking – This guide points you in the right direction. It doesn't, however, mention Chautauqua Park, which has many trails of varying lengths and difficulty levels and is also a great place to go for a picnic. Please remember to hydrate! Boulder's elevation is 5,328 feet which you'll definitely feel if you live close to sea level.
Climbing – If you're a seasoned climber, we don't need to tell you where to go. If you'd like to give mountain or rock climbing a shot, you can hire an expert here to show you the (literal) ropes.
Swimming – Sadly, the historic Eldorado Springs Pool will be closed Summer 2019 for restoration and renovation (an excuse to come back next year!), but if you need to cool off, here is a list of public pools.
The Mint Room at Celestial Seasonings – You know that tea you've been drinking since your mom made it for you as a kid? It's made in Boulder. Go check out the Celestial Seasonings Mint Room for an unforgettable experience for the senses.
Visit internationally renowned fine jeweler, Todd Reed. Not only does he create some of the most exquisite jewelry we've seen, he carries our sister company's full line of fine natural fragrances. (Check out Un Jeu D'Echecs to learn more about these wonderful scents.)
Where to Stay
Boulder's best, most affordable lodging can be found on Airbnb. If you want to splurge, however, try the St. Julien, which is beautiful and fancy and has a spa, or the Boulderado, which is classic and historical and has a great bar and, perhaps, a ghost or two.
One Last Thing
If you find you've left home without the essentials – your toothbrush, sunscreen, or your stash of Alpine Provisions Castile Soap and Lip Balm, you can always remedy the situation with a quick stop at Pharmaca Integrative Pharmacy or Alfalfas.
We hope you have the best time ever in our home town!